BREAKTHROUGH SESSION

ARE YOU READY TO BREAK FREE FROM FEAR, CONFUSION AND SELF-SABOTAGE WITH MONEY SO YOU CAN EMPOWER YOURSELF, UP-LEVEL YOUR LIFE AND YOUR BUSINESS?
---
Are you a Speaker, Author, Coach,
or Entrepreneur who:
Works hard, but your income isn't growing

You hold to an ideal that "money doesn't matter" – but you end up paying a lot of attention to getting your bills paid and just plain worrying about money

You're earning well, but savings? … not so much.  Spending makes you feel good, but your bank account isn't happy

Or, you find that no matter how much you've earned and saved, the sense of security isn't there.  You don't trust money will be there for you when you need it.

When it comes to money conversations with family, clients, the bank, or whoever, you often feel uncomfortable, tension, or avoidance – rather than confidence, ease, and empowerment
While your relationship with money is as unique as you are, there are Archetype patterns or themes that possess a universal quality.  
This means it's critical that you discover your money strengths and gifts, along with your money shadow-side, so you can stop wasting your time and energy trying to fit yourself into a box, trying to follow what you think you "should" do. Instead, its time to empower yourself with money!

---
In Your Sacred Money Archetype
Breakthrough Session, You will:
Estelle Gibson-CPA, ACC
Sacred Money Archetypes
Certified Coach


Discover YOUR top 3 Sacred Money Archetypes revealing the most profitable actions you can take to increase your income and secure your financial freedom and future.
 Pinpoint Your Money Blind Spots and identify opportunities for empowering your financial decisions and your personal growth.
Clarify Your Money Goals and learn the next‐best step You Can Take Immediately! 
Leave the session inspired and clear about how to align your financial success with your personal growth
---
And you'll also receive 2 BONUSES!!
BONUS #1 - The Sacred Money Archetypes Assessment. You'll discover Your Sacred Money Archetypes, unlocking what makes You tick when it comes to money. This Powerful Assessment is only available from Certified Sacred Money Archetype Coaches.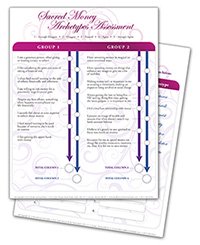 BONUS #2 - A Customized Sacred Money Archetype Map that summarizes your top 3 money archetypes detailing the gifts and challenges of each, your Empowering Money Mindset, Your Money Contract and more.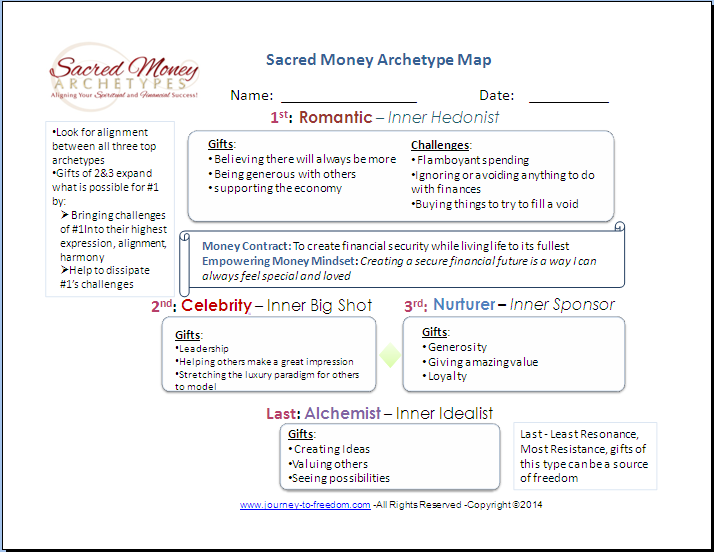 ---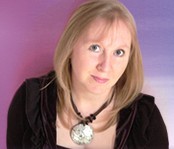 "Before I started working with Estelle I had sorted a lot of my money issues, but I was really stuck with practical ways to move forward – I needed help!

I had the most wonderful session with Estelle. She was so easy to talk to and put me at ease when some really difficult money issues came up.  Her worksheets were so helpful and the clarity that I had with those was so profound.

Estelle was so skillful, she made everything seem much more do-able, easier, more fun and less scary.  Estelle was gentle in her approach and yet her strength shone through too.

Now I have so much more clarity about where I am with money, what to do with it and how.  I feel supported and able to move forward with my new skills and I just know that I couldn't have done that with Estelle's expert help and guidance."
Kate Cave-The Karma Life Goddess
Holistic Business Coach
www.TheKarmaLifeGoddess.com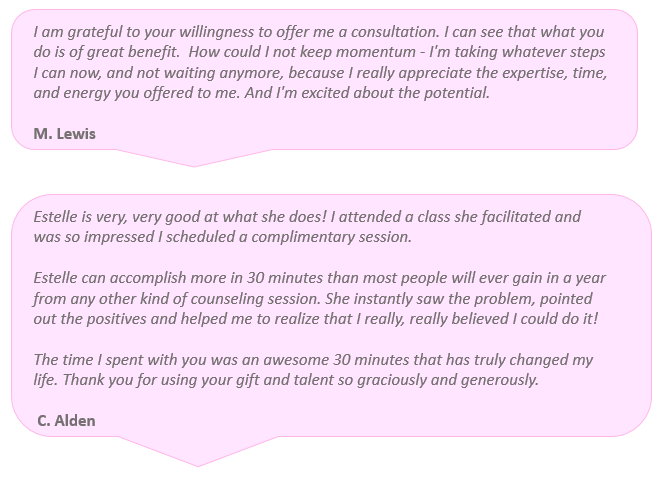 ---
Sign-up for your Breakthrough Session below

You'll receive an email with the Sacred Money Archetypes Assessment, instructions on how to complete it

and a link to my schedule to book your private 60 minute session

You'll send me your results and


We'll meet via video or teleconference line 
---
I only have a few openings available in my schedule for these popular and powerful sessions

The open spots are available for You if You're ready to take the Inner and Outer Actions to move past your limiting beliefs and Create Lasting Financial Freedom!

If this describes You, then I invite you to sign-up for one of my next available openings! 

Schedule Your Breakthrough Session Today!
Only $297
CONTACT: coachestelle@journey-to-freedom.com with any questions.