Journey to Freedom
5-Step Coaching Process
I use an Inner and Outer Approach in my 5-Step Coaching process for 1-1 coaching sessions, group coaching, classes and programs.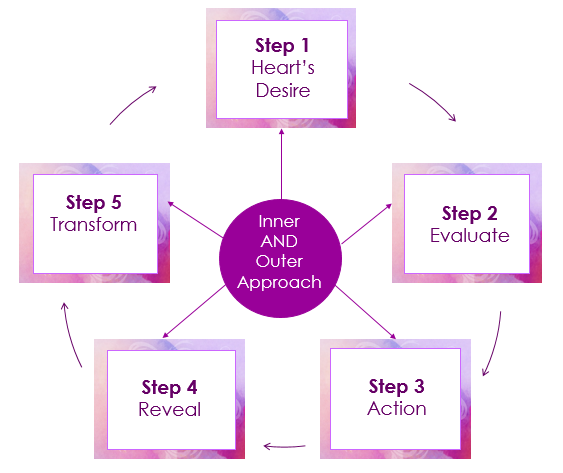 ---
H - HEART's DESIRE –

You'll set Your Intention and Clarify Your Vision

for Your Financial Future
In this step You'll create a vision for your money and your business. You'll begin to clarify your goals and set an intention for Your Journey.
I use the Visioning Process and teach my clients to use Deliberate Attraction to create and begin to magnetize their vision.  You'll choose from the 5 main areas of focus: Income, Process, People, Knowledge and Resources to focus your goals and intentions.
---
E

- EVALUATE -
where you are now
Just like with any journey, once you clarify your destination you need to know where you're starting from. You'll Assess where you are right now in your money & mindset and the environments of people, places and things,  so that you'll have the power to make the changes necessary to reach your desired results.
---
A - ACTION
This is where you'll create a plan that will bridge the gap between Your Vision and where you are right now. Your action plan will keep you headed in the right direction, continuing on Your Journey and arriving at your goal.
You'll create an action plan based on:
The current stage of the Wealth Building Cycle that you are in (Creating, Building or Sharing Wealth)

Your current skillset, experience and learning style


Your Sacred Money Archetypes

®

.
---
R

-

REVEAL

-
the inner blocks that are stopping you
Taking actions without addressing your underlying beliefs will lead you right back to where you are.  You'll learn your core money story and the underlying thoughts, beliefs, feelings and actions that are stopping you and begin to shift them so that they are aligned with your goals and desires.
I assist my Clients in using Deliberate Attraction, Emotional Freedom Technique (EFT) , Emotional Brain Training (EBT), Clear Your Beliefs Method and other Accelerated Learning Practices to assist in removing the blocks to achieving their results.
---
T - TRANSFORM

-

Vision with Action....creates Transformation!  
Many times when we reach milestones or goals, we get stagnant, complacent or slip backwards because we don't have a focus or direction towards what's next. In this step you'll celebrate the progress you've made and have a clear direction of what's next.
---