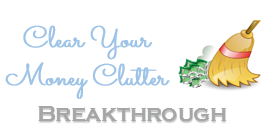 In this 60 minute session we'll expand on what you discovered by taking the Money Clutter Scan by:
Clarifying 

the money goals you want to achieve focusing on the compelling why behind them. 

Reviewing 

the tolerations, conversations and resources you've listed and create an action plan to complete them

 Uncovering 

the underlying payoffs and limiting beliefs that may be sabotaging you and begin to shift them so you can eliminate your money clutter for good!
Here's How it Works:
I only have a few openings available in my schedule for this popular and powerful session

The open spots are available for You if You're ready to take the Actions to Clear Your Money Clutter and Create More Time, Energy and Income!!
If this describes You, then I invite you to sign-up for one of my next available openings!

SIGN-UP FOR YOUR SESSION NOW!
Price - $197