SHIFT YOUR MONEY BELIEFS
3 -Part Video Series

In this video series I take you through Step 4 of my Journey to Freedom Coaching Method.  Included is a 3-step process to Shift Your Money Beliefs.  Each video has an accompanying worksheet.  Just click on the image or link below the video to download. 
Step 1 - Uncover the Beliefs
My Money Beliefs - This worksheet will help you begin to uncover the limiting beliefs that you have about money.  Finish each statement with the first thing that comes to your mind, then review your answers and summarize your main beliefs.
Step 2 - Dismantle the Beliefs
Your Money Story - reflects what's going on in
your life right now.  It's created from the
environment you grew up in and the
experiences you've had throughout your life.
Begin journaling about the questions listed and
begin to reveal Your Money Story.

Step 3 - Replace the Beliefs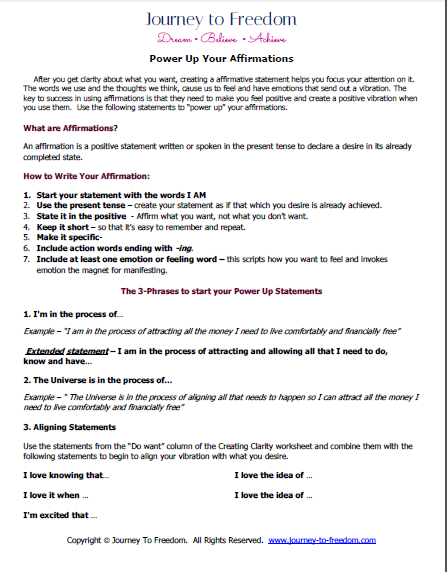 Powered up Affirmations The key to success in using affirmations is that they need to make you feel positive and create a positive vibration when you use them.  This worksheet will help you "power up" your affirmations so you can align your thoughts, beliefs and actions with what you desire.