ARE YOU READY TO ATTRACT WHAT YOU DESIRE IN YOUR FINANCIAL AND BUSINESS LIFE?
---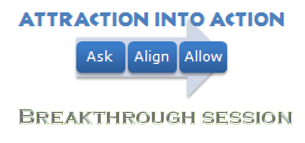 Thank you for your interest in a Attraction Into Action Breakthrough Session!  Sessions are approximately 30-45 minutes and are held via video conference or phone.
In this powerful session you will experience a breakthrough and begin to attract what you desire using the 3 Steps to Deliberate Attraction:
Step 1 - ASK - You'll Clarify Your Heart's Desire and set your intention for Your Money and Your Business
Step 2 - ALIGN - Create a Personalized Powered-Up Affirmation Statement to begin to raise your vibration so you can attract what you desire.
Step 3 - ALLOW- Remove Doubt and begin to align your thoughts, beliefs,feelings with your Heart's Desire.